---
We have meticulously taken time to create products that we ourselves would want through Sukiyabashi Jiro's own unique recipes. We invite you to give our products a try.
Only available within Japan (sorry, we do not offer overseas service or delivery at this time)    
数寄屋桥次郎原创商品阵容
我们根据"数寄屋桥次郎"的独创菜谱,用心将自己想要的东西打造成了商品。
为了让大家在家中也能方便地品尝到次郎的美味,我们尽可能地再现了店内的口味。敬请品尝。
销售范围 日本国内(目前不在国外销售且无法邮寄到国外)
---

RICE VINEGAR
Featuring a rich, mild, yet fittingly sour taste without the pungency of vinegar, this product was specially crafted using
Sukiyabashi Jiro's original recipe to produce a rice vinegar that meets our high standards. Vinegar of high-quality such as this can be utilized in a wide range of food and drinks.    
该醋口味醇厚,口感柔和,酸味纯正,没有一般醋类的冲鼻气味。这是按照我们自己的希望,通过数寄屋桥次郎原创配方调制而成的一款米醋。
一瓶好醋,既可用来烹饪各式菜肴,还能用于调配各类饮品。    
Perfect for Japanese, Western, and Chinese dishes―or even your own original ideas. Mix with sesame paste to make sesame dip, with mayonnaise or mustard to make sauces, or with vinegar or oil to make dressings to enjoy on chilled tofu, dressed vegetables, simmered dishes, oden, stir-fry, lightly pickled vegetables, and more.    
用于凉拌豆腐、拌蔬菜、炖菜、关东煮、炒菜、腌菜等。搭配芝麻碎可制成芝麻酱;搭配沙拉酱、芥末可制成调味酱;搭配西洋醋、色拉油可制成沙拉汁。除日式、西式、中式等风味外,还可根据您的创意调配出不同风味。    
SUSHI VINEGAR
This is the original sushi vinegar used at Sukiyabashi Jiro's head restaurant, which was painstakingly developed over more than a year.
Ingredients consist of Sukiyabashi Jiro rice vinegar, salt, and sugar only. Our unique rice vinegar uses flavorful sun-dried salt. Sugar is used sparingly―just enough to bring out the sheen in rice.
Enjoy the taste of Sukiyabashi Jiro's Edo-style sushi, which offers the perfect balance of sourness, sharpness, and briskness while drawing out the sweetness and umami of seafood.    
这是花费长达一年多时间研发出来的原创寿司醋,本店亦在使用。
原料仅使用"数寄屋桥次郎米醋"、盐和糖。在本店原创的米醋中加入口感浓郁的天日盐。糖的用量很少,仅用于让饭粒呈现光泽。
该醋酸味较强,口感浓烈,风味独特,充分烘托出海鲜本身的鲜美与甘甜,让每一个人都能享受到数寄屋桥次郎寿司的美味。    
■Cook 3 gou* of uncooked rice. Evenly pour in 100 cc of sushi vinegar. Fold in until fully mixed. Cover with a damp cloth to preserve moisture while cooling. It is ready to eat once the rice cools to about body temperature.
(*1 gou=180 cc)     
■将3合大米蒸熟,趁热洒上100毫升寿司醋,切拌均匀。盖上湿布后静置,待温度降至人体体表温度后即可食用。
1合=180毫升
CITRUS VINEGAR
Made using mainly yuzu juice infused with generous amounts of sudachi juice, the exquisite flavor is the result of three carefully selected types of dashi: bonito, konbu, and yaki-ago.
This is a sophisticated ponzu with minimal sweetness that serves to accentuate the flavor of other ingredients. We encourage you to experiment with your own creative ideas.    
该醋以柚子汁为主,并加入丰富的酸橘果汁调制而成。精选鲣鱼、海带和烤飞鱼三味熬制高汤,风味绝佳。
同时,该橙醋甜味较少,适合成年人的口味,可充分烘托出食材本身的味道。您可根据自己的创意调配不同风味。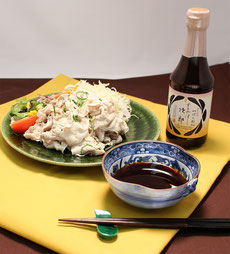 Ideal for vinegared dishes, white fish sashimi, chilled shabu-shabu, yakitori, gyoza sauce, or even dilute with olive oil for an effortless Japanese-style dressing.    
用于醋拌凉菜、白肉鱼刺身,冷火锅底料、烤肉串或饺子蘸料。加入适量的橄榄油,搅拌后也可轻松制成日式沙拉汁。
---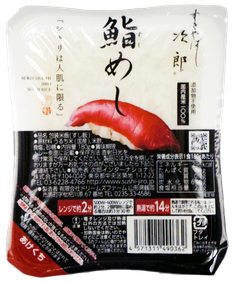 Sukiyabashi Jiro sushi rice
We provide sushi rice with the same great taste as Jiro's that can be enjoyed conveniently at home. This product reproduces as closely as possible the unique taste of our restaurant's specialties. By itself it may taste somewhat sour, but you will appreciate its perfect balance once you enjoy it as intended with toppings. Our sushi rice serves to draw out the umami and sweetness of toppings.
For the best experience, we recommend to serve at body temperature.    
◆Contains no artificial flavor, preservatives, or additives
在家中也能品尝到数寄屋桥次郎的寿司饭。我们根据"数寄屋桥次郎"的独创菜谱,用心将自己想要的东西打造成了商品。
为了让大家在家中也能方便地品尝到次郎的美味,我们尽可能地再现了店内的口味。请务必加热至人体体表温度品尝。
人口调味・防腐剂,添加剂非使用    
Microwave oven:
(1)Open top seal to the dotted line.
(2)Microwave for approx. 2 minutes at 500‒600W.
  *Approx. 3½ minutes if heating two
  *Approx. 50 seconds at 1100W
(3)Remove from the microwave.
(4)Let self-steam until cools to about body temperature, then completely peel off top seal.    
微波炉加热
(1)将密封膜揭开至虚线部分
(2)使用500W或600W的微波炉大约加热2分钟
      *同时加热两份时大约需要3分30秒
      *使用1100W的微波炉加热时大约需要50秒
(3)从微波炉中取出
(4)温度降至人体体表温度后即可揭开密封膜
Boiling:
Caution! Do not remove top seal.
(1) Boil a pot of water.
(2) Place package in boiling water with the seal up and simmer for approx. 14 minutes.
(3)Let self-steam until cools to about body temperature, then completely peel off top seal.
隔水加热
注意!请不要在加热前揭开密封膜
(1)在锅内备好开水
(2)密封膜朝上,大约加热14分钟
(3)温度降至人体体表温度后即可揭开密封膜    
*Beware of burns. Package is hot when heated and first removed from heat.
*Vinegar gives off a pungent smell when heated. Please exercise due caution.
*Eat at about body temperature (before it cools).
*Do not use any method other than microwave or boiling to prepare.    
*加热时和刚刚加热后的寿司饭温度很高,小心烫伤
*加热后醋味会变得较为明显,敬请留意
*请在温度降至人体体表温度时(趁热)食用
*请勿使用除微波炉加热、隔水加热以外的其他方法进行加热    
---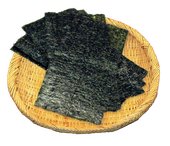 Sukiyabashi Jiro Roasted Seaweed ("yakinori")    
 Sukiyabashi Jiro Roasted Seaweed ("yakinori") is not thick, deep black dried seaweed ("nori"). It is a blend called "ao-kon," which mixes premium quality black seaweed with a bittersweet-tasting green seaweed ("aonori"). The most distinctive trait of this blend is its indescribable aroma of the ocean.
It is also the perfect match for Sukiyabashi Jiro Sushi Vinegar. We invite you to savor the makizushi, norimaki, and other assorted delights. They are ready to enjoy with no further roasting.    
是"数寄屋桥次郎寿司醋"和"数寄屋桥次郎寿司饭"的最佳伴侣,
搭配品尝风味绝佳。
可用于制作手卷寿司、海苔寿司卷和其他各类菜肴。也可不经烤制直接享用。
◆充满海之香气和风味的次郎"青混" *青混是指在黑海苔中掺入适量的青海苔后制作而成的海苔。
*Our restaurant uses only fresh first yields collected in early fall. To ensure that Sukiyabashi Jiro Roasted Seaweed is easy to use in everyday households, we prepare it from seaweed carefully selected from reliable seaweed harvests gathered between November and January.    
*本店仅使用初秋最先收获的食材。为了让大家在家中也能方便地品尝到"数寄屋桥次郎烤海苔",我们选用的是11月份至1月份产量较为稳定的品种。
烤海苔是将某种海藻进行干燥处理后制作而成、可长时间保存的食品,香气和风味独特。
自古以来就深受日本人的喜爱。
富含蛋白质、食物纤维、维生素、钙、EPA、牛黄酸、β-胡萝卜素、氨基酸等营养物质。是不含有任何调味料和添加剂的健康食品。 
"海苔"的保存方法
*请避免在潮湿环境中保存。
*请勿将取出的海苔放回袋内。   
---

Sukiyabashi Jiro's original dashi (soup stock) contains no MSG, preservatives or salt, making it ideal for people watching their salt intake. Ingredients, which are carefully selected to draw out umami and maximize flavor, are prepared using Sukiyabashi Jiro's preferred blend.
Bonito and konbu are specially processed to quickly and fully draw out umami, making it possible to create delicious dashi soup stock in just five minutes.    
数寄屋桥次郎原创高汤,不含任何化学调味料、防腐剂和食盐。需控制盐分摄取的人也可放心使用。为了让大家充分品尝到食材本身的美味,我们对原料进行了严格的筛选,按照数寄屋桥次郎的喜好进行了调配。
我们对鲣鱼和海带进行了加工,使其在短时间内也能充分发挥出美味。只需5分钟即可烹煮出鲜美的高汤。    
---
---
Skiyabashi Jiro Exclusive Pouch
This product is handmade by craftsmen in a small workshop in Kesennuma, Japan.
The material, dyed using traditional techniques, is not only durable, but has a texture that continues to improve with age. Over time, the color gently and naturally fades to result in a truly one-of-a-kind item.    
本商品是由聚集在气仙沼一间小工坊中的工匠们纯手工精制而成。
结实的帆布通过传统染色技术染制而成,越用越趁手,颜色古朴,独具风情。    
※  Size (approx):150 mm (l)×200 mm (w)×50 mm (gusset)
※  Note that rubbing can cause color to transfer. Please exercise due care when using with lighter colored articles.
※  Color may bleed when washing. Wash separately.
※  Hand wash with a mild detergent and hang to dry.
※  Do not iron directly. Use a thin fabric between iron and material and steam with light pressure.
※  Dye may spread if left wet. It is recommended to wash as soon as possible if the product becomes wet.
※  尺寸(约)长150mm ×宽200mm × 深50mm
※  摩擦时颜色会蹭到其他物品上。与浅色物品一起使用时请注意。
※  洗涤时会出现掉色的情况,请勿与其它物品一起洗涤。
※  请使用中性洗涤剂,按压洗涤,并置于阴凉处晾干。
※  熨烫时请覆盖衬布,用蒸汽轻轻熨烫。
如沾水后放置不管,则染料可能会渗透到其他物品上。因此,沾水后请尽快洗涤。